The business aviation industry's biggest gathering, NBAA-BACE, returned to Las Vegas during 17−19 October. Alison Chambers of Emerald Media reports.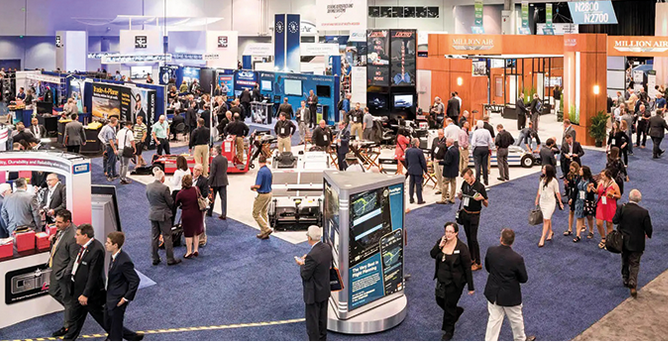 Last year it was in Orlando, but with Vegas an established 'destination focused' venue, organisers have now committed to the Convention Centre through to 2028.

Those who planned well ahead had already secured their tickets to see Adele at Caesar's Palace, or U2, headlining at the city's newest attraction, the Sphere, built at a cost of an eye-watering US$2 billion.

A massive 100-metre-high canvas structure is lit by 1.2m LED lights. We saw it transform from a striking blue globe into a giant basketball with famous players, a blinking eye, a detailed map of the moon and impressive animations.

Later this month it will take on a motorsports theme when Las Vegas takes the honour of hosting the USA's first night race – (for UK F1 fans that means tuning in at 06:00). The final lap of preparation work – to the circuit's spectator stands – was feverishly underway during our visit, ensuing road closures, heavy traffic and delayed cab and Uber drivers, frustrated by the disruption. The new 3.8-mile track will weave right through famous landmarks and iconic hotels including the new Sphere.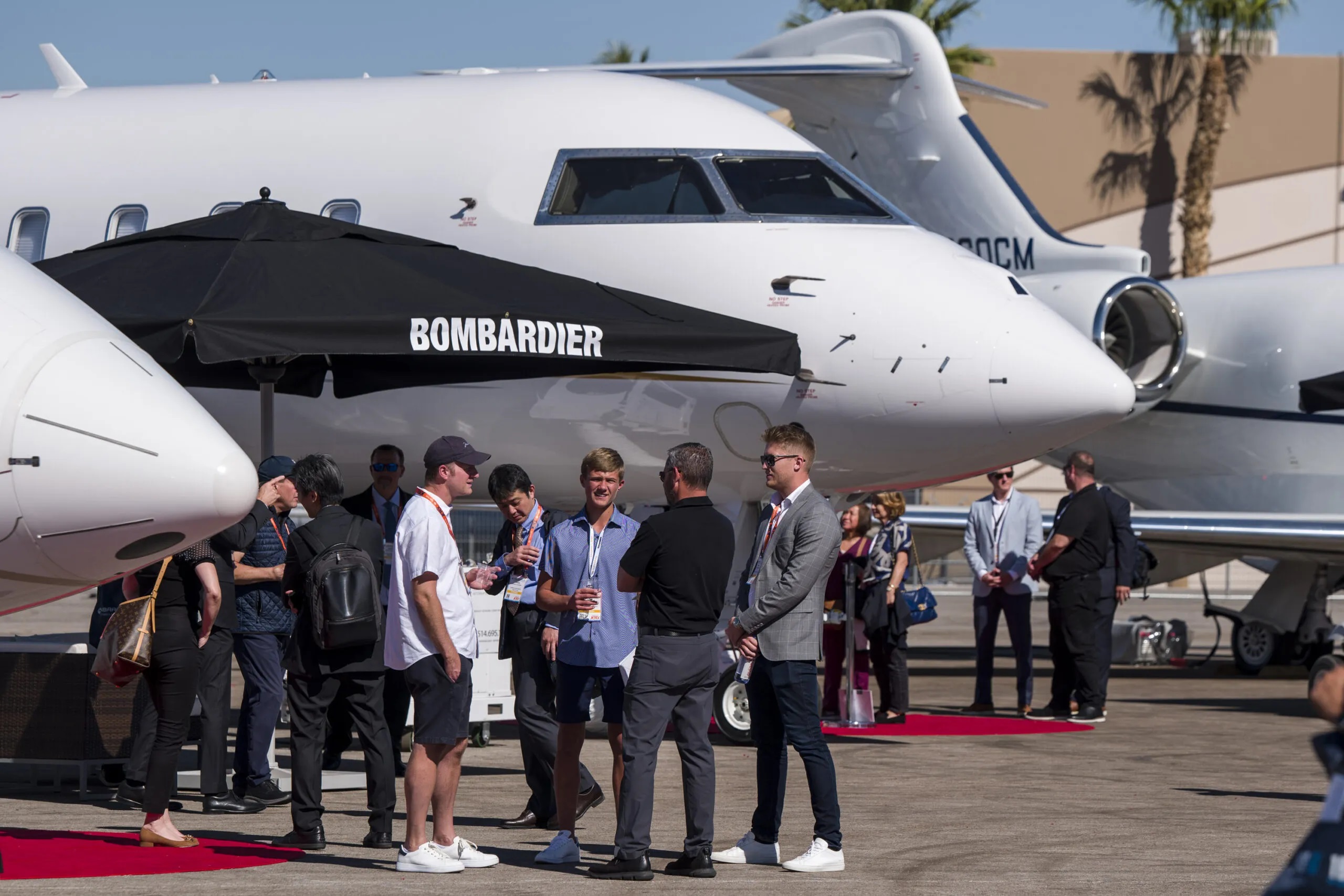 Vegas joins Miami and Austin, in hosting the Grand Prix, but its commitment is much greater. Its new paddock, owned by F1 itself, represents an estimated US$500 million investment, including the 39-acre site itself and the cost of employing 400 construction workers – working around the clock to get the work done. A permanent four-storey 300,000 sq ft building will serve as F1's new US headquarters post-race.

Motorsport journalists suggest the Vegas night race could easily become one of the fastest on the F1 calendar, maybe as fast as Monza, with its wide, fully resurfaced roads.

The event during 16–17 November will certainly be a big deal for business aviation including Henderson Executive Airport, which hosted a smaller static display for NBAA this year, notably because one of the biggest OEM's (Gulfstream) decided to stay away.

There was plenty to admire on the static, nonetheless. Not least the US flying debut of Volocopter's eVTOL 2X prototype – in a nod to the future of aviation. The German manufacturer's decision to come to Vegas, replicating its Paris Air Show participation is an important part of building awareness and raising perception. In the entrance of the exhibition hall, autonomous air taxi Wisk, backed by Boeing, was a talking point.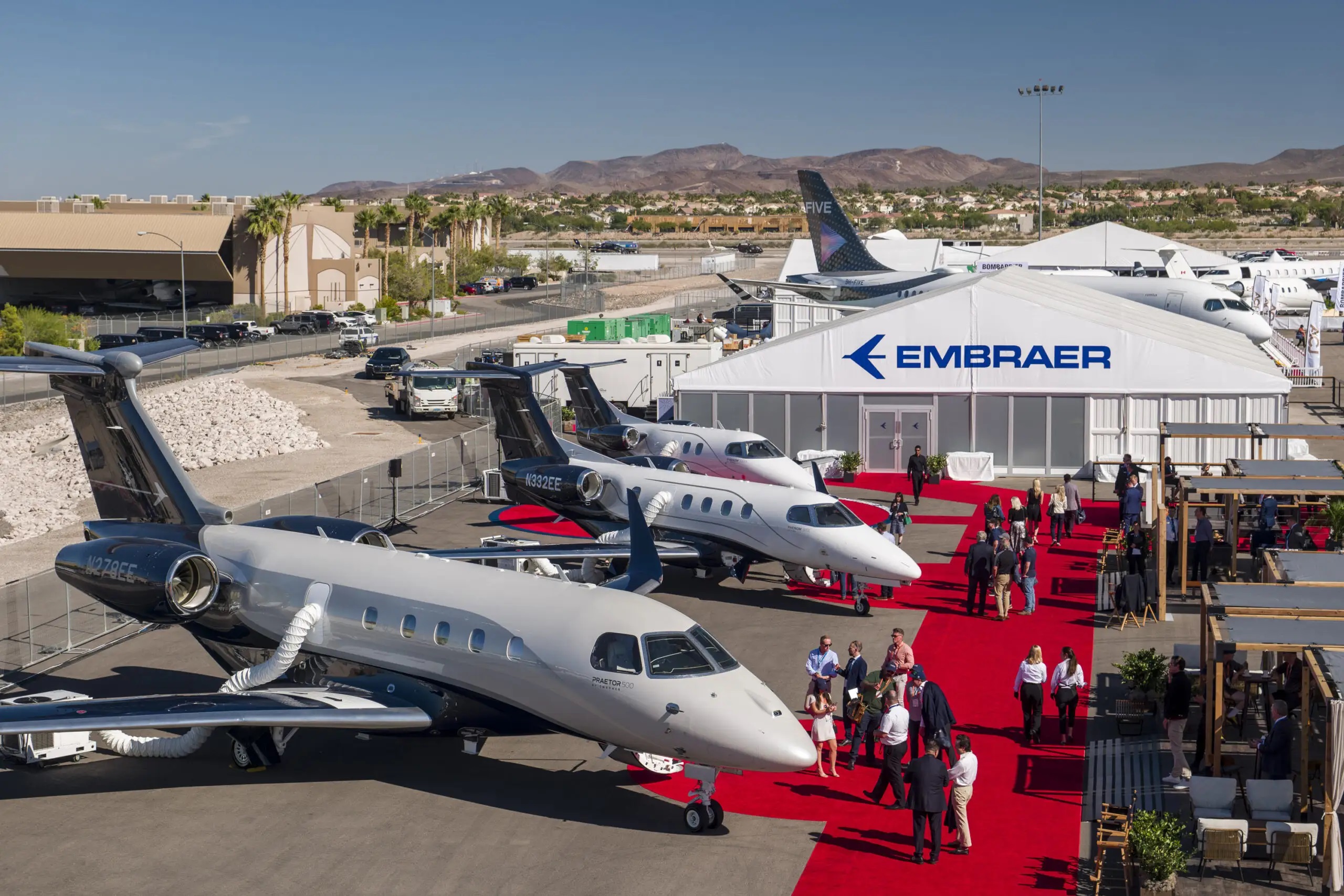 The 12-rotor aircraft has completed some 1,600 flights into its certification programme and the manufacturer is now building a production prototype of its 'sixth' generation aircraft in Long Beach, California, ahead of determining a permanent full-scale production site. As Volocopter plans for the Paris Olympics in 2024, Wisk is targeting the 2028 summer Olympics in Los Angeles, although it has significant regulatory issues to overcome not least airspace safety in urban areas. Wisk will carry four passengers, but like other NextGen air taxis it will be pilotless, relying instead on a vehicle supervisor to 'monitor and communicate with multiple aircraft from the ground.'

During the show leading business aviation manufacturers Textron, Embraer (Phenom 100EX) and Pilatus announced improvements to their established light jet category jets – more range, performance, avionics (all good news for Garmin) along with improved interiors, featuring sustainable materials.

Honda Aircraft, meanwhile, revealed a new, bigger aircraft, the HondaJet HA-480.

Formally christened as 'Echelon', Amod Kelkar, HondaJet's Chief Commercial Officer, beamed as he announced details to a packed press conference, taking up the 08:45 slot that Wheels Up, a charter company, previously enjoyed.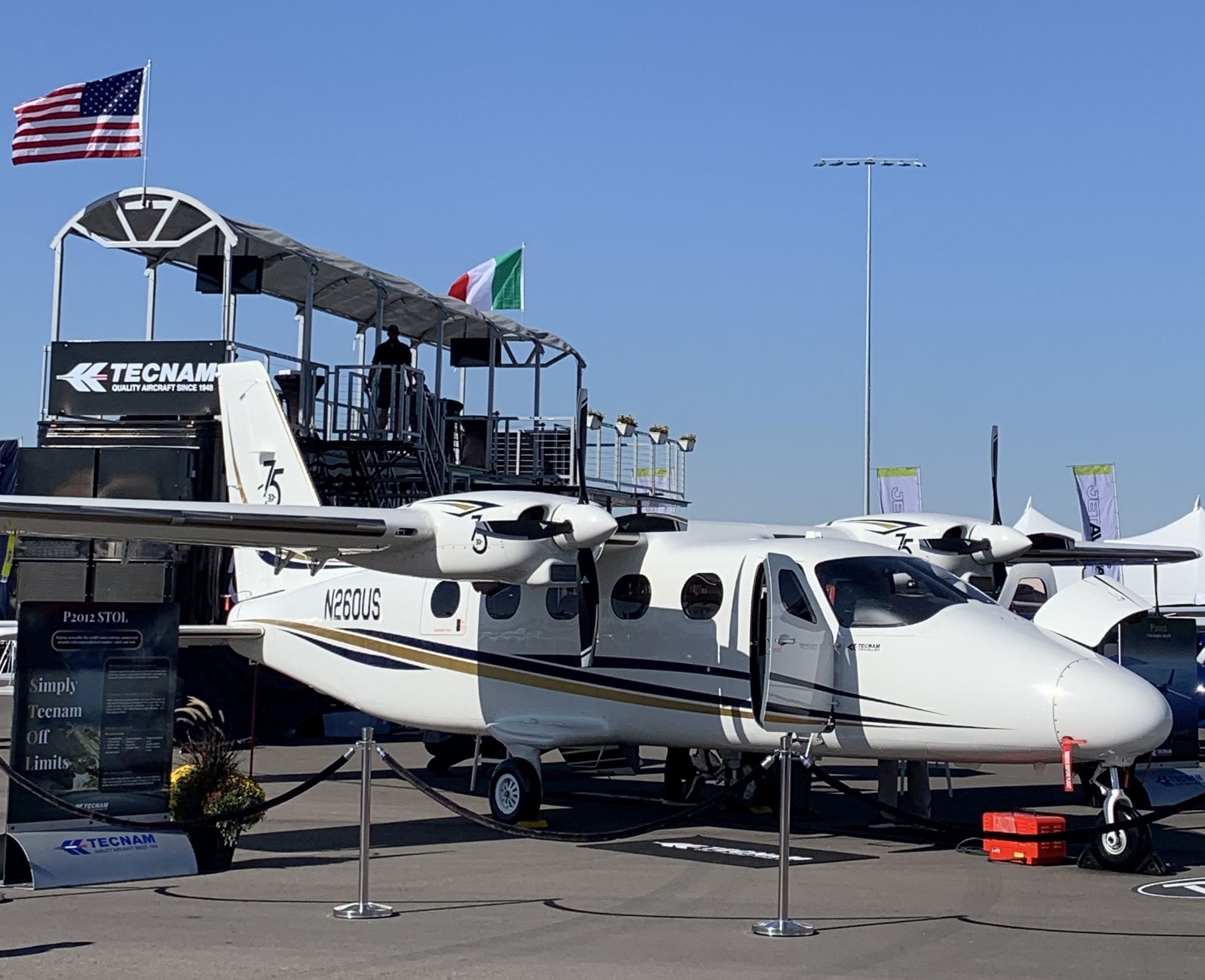 But in a sign of the times, Wheels Up is now majority-owned by Delta Air Lines, its founder Kenny Dichter departed and the company's sister aircraft management division newly sold to Airshare.

HondaJet's new HA-480 is being designed to carry up to ten passengers, a transcontinental light jet which puts it firmly in the category of the new Gen2 version of Textron's popular Citation CJ3; an enhanced Pilatus PC-24 with bolstered 2,000nm range.

HondaJet has logged LOI's (letters of intent) for 350 aircraft, 10% of which will go to European customers. It is aiming for pilot commonality with its current models. The distinctive HondaJet, new to the UK G-register, can be experienced with charter operator BookaJet. It just accepted its second aircraft, both positioned at Farnborough Airport.

With the acceleration of NextGen aircraft and the industry's ongoing goal to meet net zero emissions by 2050, NBAA announced a new advocacy campaign to educate policy makers and decision makers on its work and leadership on sustainability. 'Climbing. Fast' follows its No Plane No Gain societal campaign, but goes further. NBAA has also enlisted other aviation associations to join the effort.

An independent poll showed a lot of people did not understand business aviation and when questioned alongside sustainability they did not form a good impression, NBAA CEO Ed Bolen explained. When presented with facts, however, on what the sector is doing on sustainability they were persuaded it is 'an essential industry, committed to sustainability'. Emissions from modern business jets are 40% lower than 40 years ago, he highlighted.


"We are a technology incubator for aviation, leading in safety and sustainability", added Pete Bunce, CEO of the General Aviation Manufacturers Association (GAMA). Our industry supports 1.2 million jobs and contributes US$247 billion in total economic output for the USA".

"We are climbing fast – to net zero emissions, to create new jobs, to help companies get to where they need to be, safely, securely, flexibly and sustainably, and we're climbing to provide more humanitarian relief", said Ed Bolen, urging industry members to back the campaign.

Underlining this messaging, blended sustainable aviation fuel (SAF) was supplied to the three Las Vegas airports during NBAA-BACE and Signature Aviation Flight Support, partnering with Epic Fuels, will offer SAF at Harry Reid International Airport in Vegas through to Grand Prix week.
Steffi Graf and Andre Agassi

Keynote speakers tennis legends Steffi Graf and Andre Agassi endorsed the value of business aviation – as a great complement to sport and as an enabler. It affords travel flexibility, being back home for dinner, to take the kids to school and that's a priority, said Andre Agassi. The power couple talked with Ed Bolen about their philanthropy work. Steffi founded Children for Tomorrow in 1998 to provide psychological help for children and families who have experienced trauma – from abuse, war or family loss. Andre launched the Andre Agassi foundation for Education in 1994 to promote access to education.

https://nbaa.org

www.emeraldmedia.co.uk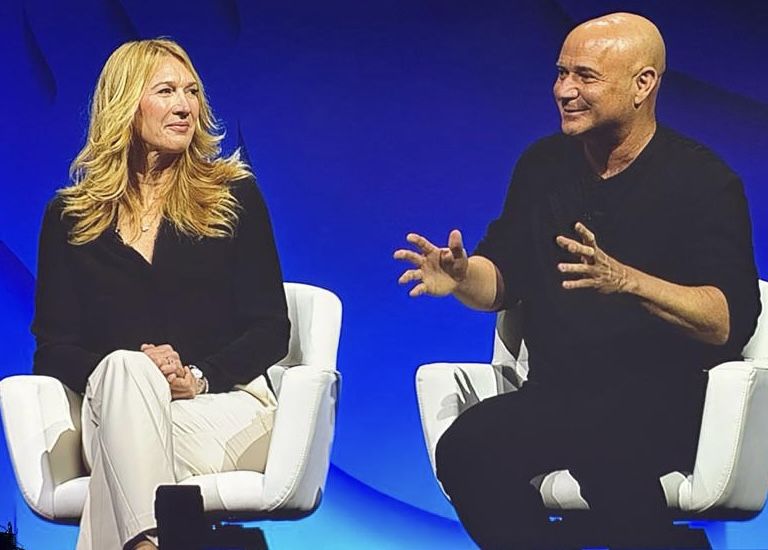 And nothing to do with NBAA. THE SPHERE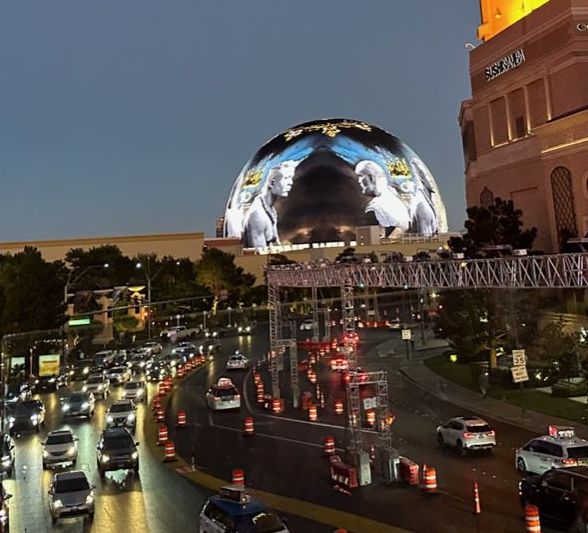 READERS' COMMENT
All comments are filtered to exclude any excesses but the Editor does not have to agree with what is being said. 200 words maximum
---
No one has commented yet, why don't you start the ball rolling?
---